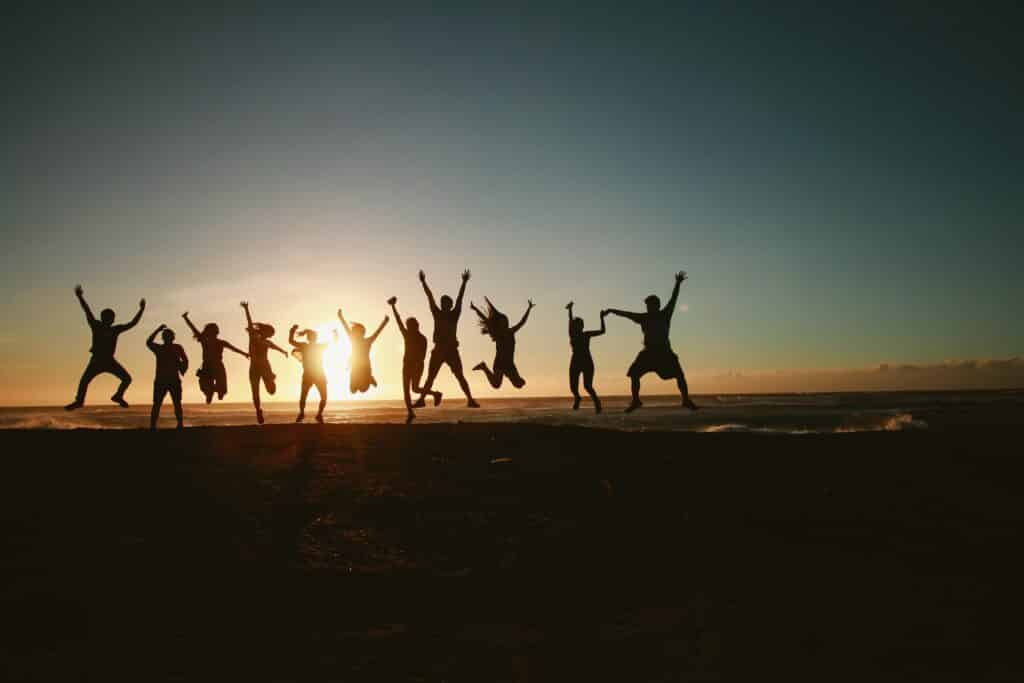 Does Your Puzzle Piece Match Our Puzzle Piece?
At Ethic Advertising Agency, there are three keys to being happy and successful here.
Know and uphold our Core Values: Respect, Quality, Efficiency, Progress, and Kind Boldness
Know and uphold our Mission Statement: To be a catalyst for happy, profitable partners through advertising and creative solutions.
Ask questions and question everything worth questioning.
If you are align with these three keys to success, Ethic Advertising Agency will energize you be the right kind of culture for you, and take care of you through PTO, retirement plan, health insurance compensation, competitive pay, monthly social breaks, significant bonus structure, no meetings Mondays, early release on Fridays, and more opportunities to grow.
ETHIC ADVERTISING AGENCY'S JOB OPENINGS
Ethic Advertising Agency doesn't always have positions open, but we never want to miss out when the right person comes along.  If you feel like Ethic Advertising Agency seems like the perfect fit for you and that you are the type of person who can bring a fast ROI from your hiring...let us know.  Email your resume and a video or cover letter letting us know why you think Ethic Advertising Agency is the right shop for you and how creating a position for you would be worth our while.  You can email us at careers@ethic-ads.com. 
Account Success Manager
Ethic Advertising Agency is an advertising agency with a niche in hyper-targeted digital advertising and creative services.  Established in 2014, we have grown to a 15-person agency with a strong focus on culture.  Our mission is to be a catalyst for happy, profitable partners through advertising and creative solutions, and we truly adhere to our core values of Respect, Quality, Efficiency, Progress, and Kind Boldness.  If our mission and value resonate with you, I think you will enjoy our environment.
Ethic Advertising Agency is looking for an experienced Advertising Account Manager for our new Account Success Manager position. The focus of the Account Success Manager is to be the primary point person for a dedicated list of clients. You will be the quarterback of the work going on for your clients. You will lead and participate in the strategy of the clients' media and creative campaigns working with our Media/Ad Ops and Creative teams, oversee client communication, develop new opportunities for your clients, and uphold the agency's core values and mission statement.  Experience with media strategy, advertising agencies, and client management within the industry of advertising is required for this role.
What you'd be doing:
Spearhead client success through communication, including an understanding of client business, expectations, and goals.
Strengthen client partnerships through industry knowledge, and proactively collaborate with the operations team on current and new opportunities.
Lead in the strategy, building, and collaborate on media, creative, and advertising strategies for your clients.
Work to build authentic relationships through reliability and trust with clients and the internal team.
Lead client-facing and internal team meetings with the goal of ensuring account success.
Communicate effectively and thoughtfully both in-person and in-text:
Articulate clear emails and provide timely acknowledgments.
Bring a positive spin and be a problem solver, even when presenting bad news.
Understanding what questions to ask.
Ensure processes are followed and optimized at all levels of account management and strive to improve upon them.
Represent the company, our mission, and our core values at a high level as a primary face of the company to your clients.
Be an advertising expert.
Monitor and ensure on-going work performance with the client's interest in mind.
Collaborate with the sales team on new business campaigns.
Manage campaign budgets and tracking for media and creative.
We look for candidates with the following:
Minimum of 7+ years of advertising account management experience is required
Minimum of 3+ years of media strategy experience is required
Advertising creative overseeing is desirable
Bachelors degree preferred
Located within 1 hour of Pittsburgh, PA is required
Experience with Google products, Advantage/Webvantage software, Canva, advertising platforms like Google, Simpli.fi, Outbrain, Facebook, etc… are all pluses, so be sure to mention these if you have experience
Drivers License
Self-starter and ability to work efficiently in a remote work environment
Task and deadline oriented
Excellent communication and customer service skills
Ability to perform and understand media math
Enjoys learning
An overachiever who would love to work in an environment that promotes and reminds them to bring balance to their lives and that there is more to life than work.
Superb multi-tasker
Ability to work precisely and at a fast pace
Great communication skills (written and verbal)
Aligned with our core values: Respect, Efficiency, Quality, Progress, and Kind Boldness
The Deets:
We are a remote-work environment with headquarters in Pittsburgh, PA
Amazing work culture, flexibility, and fun atmosphere
Competitive pay
Generous bonus structure
Retirement plan with company matching
100% Medical, Dental, and Vision coverage
Telecommunication reimbursement compensation
Company computer
Monthly virtual or in-person social events
Paid time off on day one
11 paid company holidays
Office hours of operation are M-Th 8:30a-5p and F 8:30a-3:30p
Job Type: Full Time
Compensation: Based on experience
How to Apply:
Send your resume to careers@ethic-ads.com
Please respond to the following in your cover letter or video recording (video preferred):
Describe your work experience within the field of advertising. Include specifically your experience with client management and media strategy.
Besides a pay check, what do you want to get most out of this position/company?
What drew you to this role and Ethic Advertising Agency?
Why are you the best person to be our next Advertising Account Manager?