What Is Geofence Advertising?
Ethic Advertising Agency doesn't use middlemen and develops all geofence advertising campaigns in-house on the best geofencing DSP available. This technology is considered the most reliable way to target devices in a specific locations!  When we say specific locations, we mean targeting people in stores, homes, events, etc...
Mobile is now the leading digital platform with total activity on smartphones and tablets accounting for 62% of digital media time spent.
90% of phones actively utilize GPS tracking technology.
The GPS technology is traditionally accurate within 4.9 meters.
Ability to draw fences in a polygon format with up to 12-points.
We can draw fences to be as targeted as specific aisles within a store.
Ethic Advertising Agency also uses other targeting methods and platforms for online display advertising, such as; search retargeting, contextual retargeting, site retargeting, CRM display, cross device targeting, social media advertising, native advertising, and more.
Watch Our Geofence Advertising Video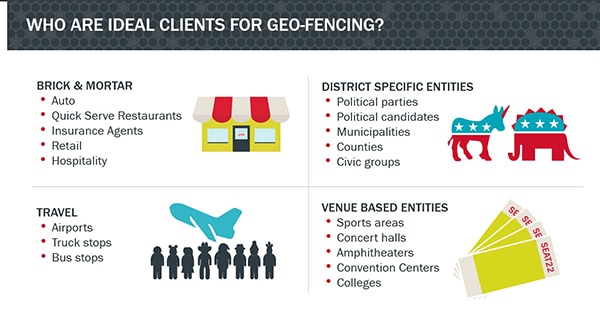 Some of the Best Ways to Use Geofencing:
Drive mobile performance | Drive mobile reach | Identify high concentrations of customers | Increase brand awareness with concentrated spends | Target competitor's locations
Ethic Advertising L.L.C.
1 Forestwood Dr, Suite 100
Pittsburgh, PA 15237
Phone: 412-224-2100